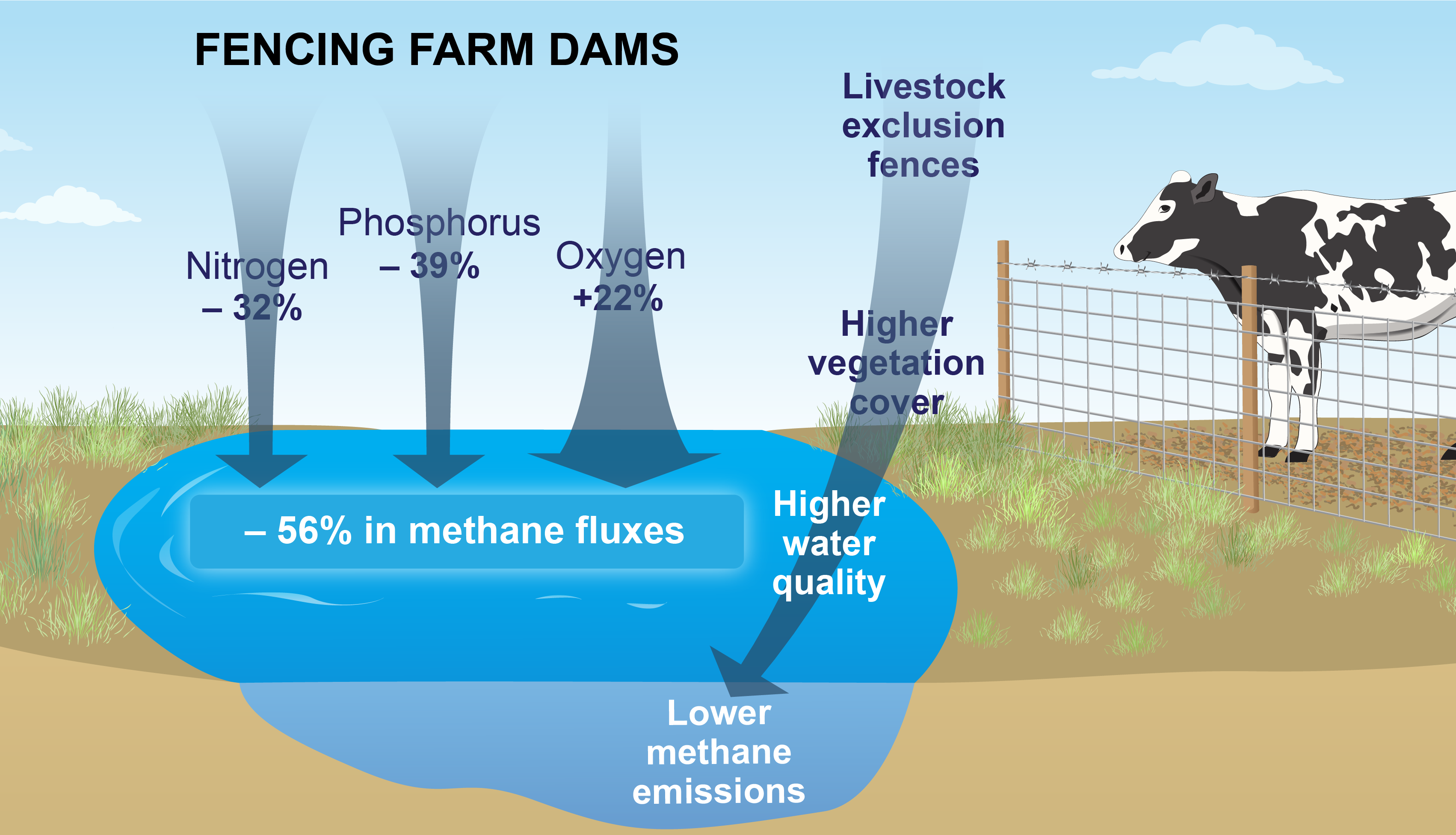 Collaborative research finds fencing farm dams halves methane emissions
Farm dams are an ever-present feature in any rural landscape in Australia and worldwide, but they often emit high amounts of greenhouse gases. However, new research shows that simply fencing and enhancing a dam can halve methane emissions.
In their latest research, published in the prestigious journal Global Change Biology, Deakin's Blue Carbon Lab collaborated with the Sustainable Farms team at The Australian National University.
Dr Ben Scheele, researcher at Sustainable Farms, said: "Our team has been investigating how farm dam management can be enhanced – in particular, through livestock exclusion and vegetating around dams – to improve water quality for livestock consumption, provide habitat for wildlife and provide more reliable water during droughts.
"The discovery that the same management practices that improve water quality and help wildlife also decrease greenhouse gas emissions is exciting, and highlights the co-benefits associated with adapting sustainable management practices on farms," Dr Scheele said.
In 2018 an unexpected discovery by Deakin's Blue Carbon Lab team found that farm dams emit significantly more greenhouse gases than lakes, reservoirs, and many natural freshwater systems. Since then, Dr Martino Malerba from the Blue Carbon Lab has focused on investigating how these emissions – and thus the overall carbon footprint of farms – can be reduced through very simple management actions.
"Our research spanned four hundred kilometres across south-eastern Australia," said Dr Malerba. "We compared thirty-three unfenced farms with thirty-one fenced farm dams – sites that are part of the Sustainable Farms research program – and found the fenced dams produced fifty-six per cent less methane than unfenced.
"This is a huge difference and clearly shows that very simple management actions can drastically improve the dam water quality as well as decrease methane emissions, contributing to more productive and sustainable farming."
Fenced farm dams recorded thirty-two per cent less dissolved nitrogen, thirty-nine per cent less dissolved phosphorus, twenty-two per cent more dissolved oxygen, and produced fifty-six per cent less diffusive methane emissions than unfenced dams.
Surprisingly, this study also found that farm dams with high dissolved oxygen can stop emitting methane and instead start absorbing greenhouse gases from the atmosphere. This means improving the condition of farm dams could mean that instead of emitting greenhouse gases, they could instead become sinks – drawing down greenhouse gases and helping to mitigate the effects of climate change.
"These findings really should provide policymakers with the evidence needed to support dam enhancement," said Dr Malerba. "With the frequency of empty farm dams increasing two-to-five-fold since 1965, farmers are really doing it tough.
"We are working with the Clean Energy Regulator so that managing farm dams for avoided emissions could allow farmers to access financial incentives through carbon credits from the Emission Reduction Fund."
Media contact
Suzannah Macbeth – 02 6125 9288