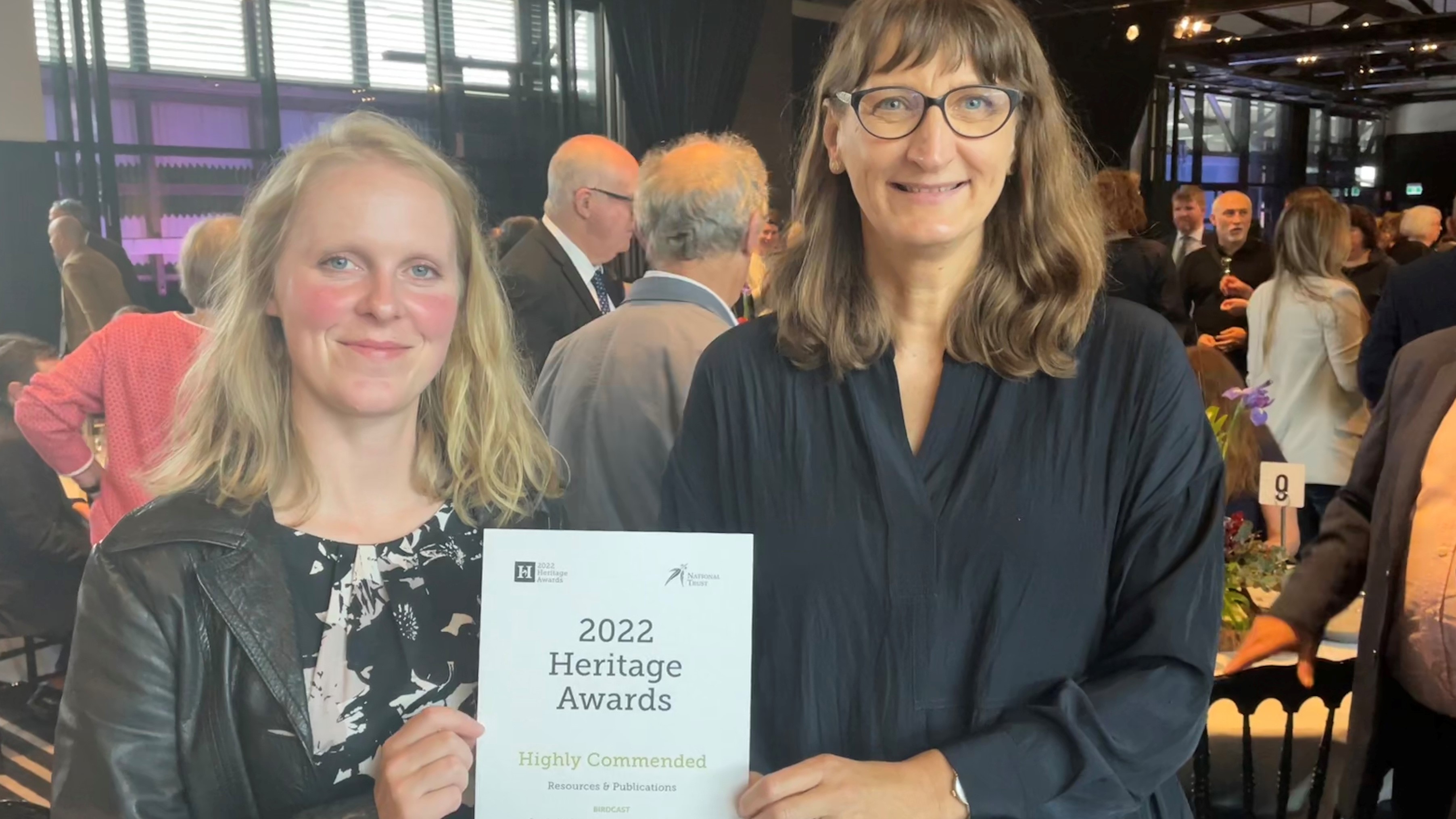 Farmer-facing webtool receives National Trust Heritage Commendation
BirdCast, a webtool created by the Sustainable Farms project enabling land managers to estimate the birds present in woodlands on their farms and thus helping protect Australia's precious biodiversity, has received a Highly Commended in the 2022 National Trust Heritage Awards.
Sustainable Farms Project Director Michelle Young said: "We are delighted that Sustainable Farms' BirdCast tool has been recognised in the 2022 National Trust Heritage Awards. These awards recognise outstanding practice in conserving and protecting heritage, including natural heritage.
"BirdCast is a practical tool that can support farmers and land managers to protect and conserve our shared natural heritage. It enables farmers to predict what birds might utilise woodland areas on their farm, and to understand how the bird species present might change under a range of scenarios," Ms Young said. Ms Young is pictured with Sustainable Farms ecologist Eleanor Lang at the awards ceremony in Sydney.
"At a time when many species of plants and animals are threatened by extinction, woodland areas on farms are extremely valuable, providing food and homes for many of these species. It's important that management of these areas are supported by science to help protect biodiversity. The BirdCast tool gives land managers a solid indication of how their own changes in management might have a real-world impact on biodiversity," Ms Young said.
"It can sometimes be difficult for the farmers and other land managers who are stewards of our natural heritage to access real science to inform their decision making on farms, and this tool can support these decisions when it comes to managing woodland areas on farms."
The BirdCast tool draws on two decades of research undertaken on farms by the Sustainable Farms team at the Australian National University. Sustainable Farms is a research and extension project demonstrating the value of natural assets – such as native vegetation and farm dams – for environmental health and farm profitability.
The National Trust Heritage Awards are an annual celebration of outstanding practice in heritage conservation, protection and interpretation, including of natural heritage. The Sustainable Farms BirdCast tool received a Highly Commended Award in the category "Resources and Publications". View the complete shortlist and winners on the National Trust website.
BirdCast was built by Kassel Hingee, with input from many members of the Sustainable Farms team at The Australian National University. Support was provided by Meat and Livestock Australia. Photographs and descriptions of birds have been generously provided by BirdLife Australia and BirdLife Australia Photography, and CRE8IVE provided expert advice on the webtool interface and functionality.
Click here to access BirdCast.