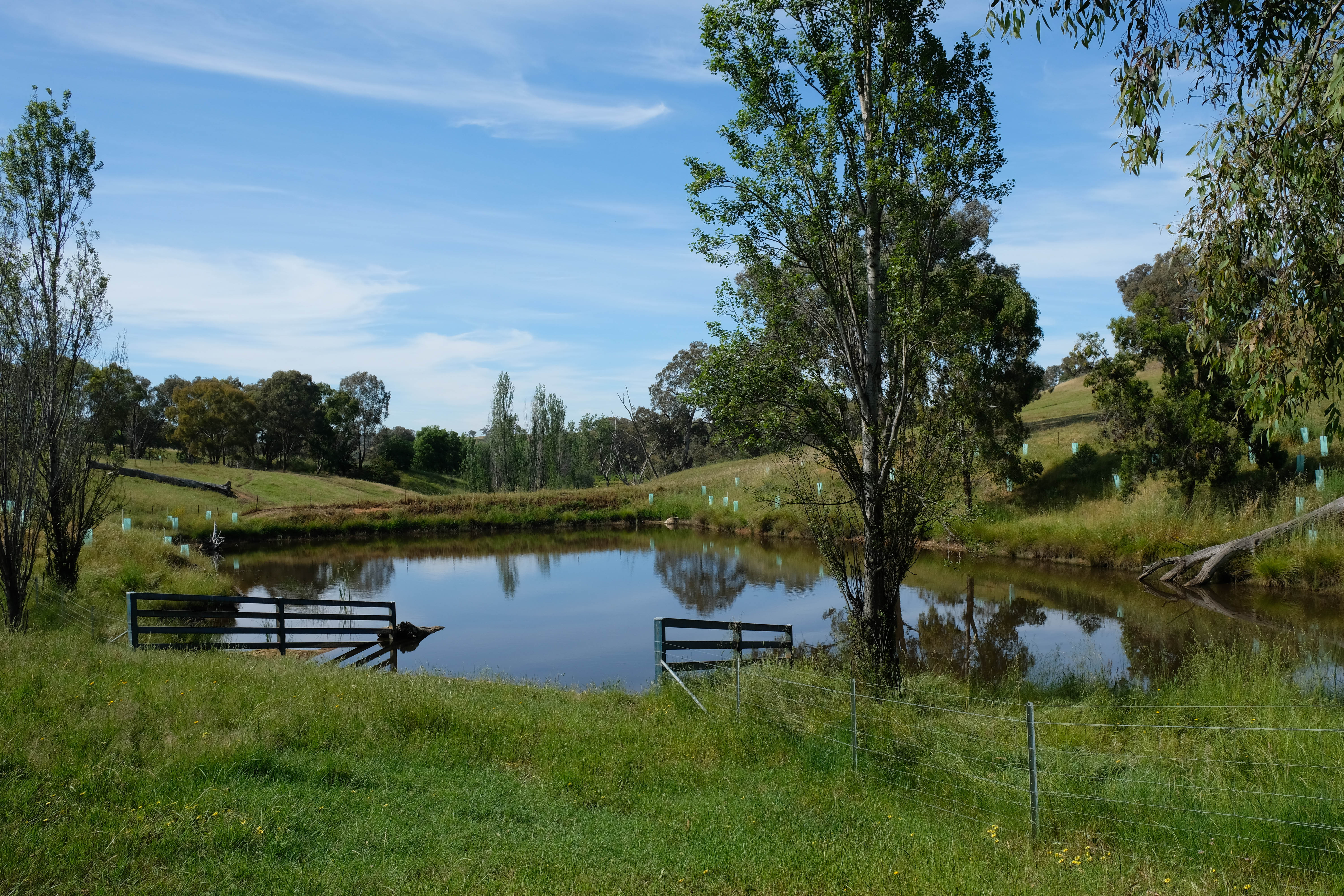 ANU Sustainable Farms funded to measure the benefits of improving farm dams
Sustainable Farms have been given $5.93 million in Australian Government funding to measure the benefits of improving farm dams. For the first time, researchers will be able to quantify the gains made in biodiversity, productivity and wellbeing when farmers improve their dams. Professor David Lindenmayer said, "You'd be hard pressed to find a better investment for a farm than making small improvements to their dams."
ANU receives $5.93 million for first-ever study of big gains from farm dams.
In a watershed for Australia's sustainable farming future, researchers from The Australian National University (ANU) have been given $5.93 million in Australian Government funding to measure the benefits of farm dams. The project forms part of the ANU Sustainable Farms initiative, which will translate the research into knowledge and tools that farmers can use to manage farm dams more sustainably.
Announced today by David Littleproud MP, Minister for Agriculture and Water Resources, the four-year project will for the first-time quantify the biodiversity, productivity and mental health and wellbeing gains farmers enjoy when they invest in dams.
The project will also help increase farms' drought resilience and water security.
ANU Vice-Chancellor Professor Brian Schmidt AC thanked Minister Littleproud for the significant investment that will support Australian farmers and their communities.
"As Australia's national university, ANU is committed to solving some of the nation and the world's biggest challenges," Professor Schmidt said. "How we ensure our farms are sustainable well into the future, particularly in an era of extreme weather, is one of the biggest challenges we face.
"This project will help ensure that our farmers are best equipped to keep doing what they do best – putting food on our tables. It will also help secure their livelihoods and wellbeing well into the future.
"I thank Minister Littleproud and the Government for this significant funding contribution, and look forward to seeing the crucial benefits it will deliver for our farmers and for all of us."
The project will be led by Professor David Lindenmayer AO from the ANU Fenner School of Environment and Society.
"You'd be hard pressed to find a better investment for a farm than making small improvements to their dams," Professor Lindenmayer said.
"Simple improvements to the design and management of farm dams, such as fencing and installing watering points enhance production, drought resilience, animal welfare and biodiversity," he said.
"These small improvements lead to deeper dams with cleaner water and which function better. And studies show with cleaner water, animals increase their weight by around a quarter.
"Good dams also provide a place where farmers can recharge the mind while going about their daily work. For many of the farmers we have spoken to, this is one of the biggest pay offs.
"Anecdotally we know the economic and other gains are massive. For the first time, this project will help us understand just how big they are."
To see more about managing your farm dam for biodiversity, click here.